The African Institute for Mathematical Sciences (AIMS) in partnership with the Mastercard Foundation recently held a social innovation competition for current AIMS Mastercard scholars and alumni at AIMS Cameroon under its Social Innovation and Entrepreneurship Fund (MCF – SIEF). The program which took place on 2-9 August 2020 is aimed at equipping members of the AIMS Community with the requisite skills and resources to tackle challenges within their community, while establishing social enterprises that would create economic opportunities for others.
The Social Innovation and Entrepreneurship Fund provides our Scholars an opportunity to practically exercise their transformative leadership skills by creating economic opportunities for themselves and others.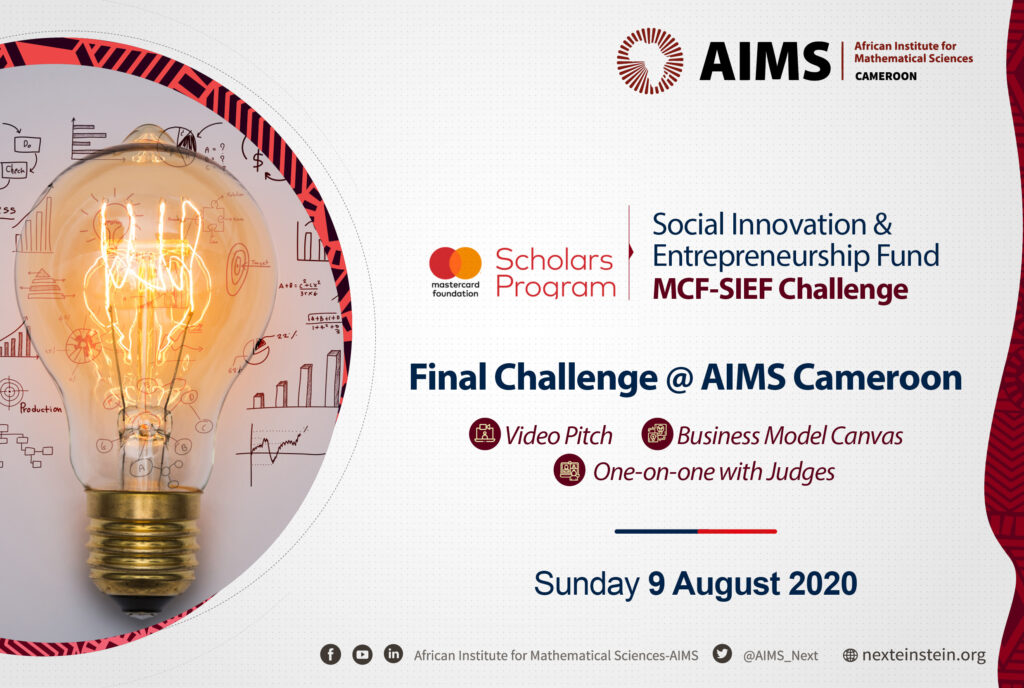 "This is the beginning of new journey as an entrepreneur. We are looking forward to your creation of economic opportunities for yourselves and for your communities," Joseph Ndiritu, Manager – Mastercard Foundation Scholars Program at AIMS.
For one week, several scholars and alumni were taken through design thinking processes for social innovation and entrepreneurship. The training complemented the technical skills that the AIMS students learn in their postgraduate studies, equipping them with creative problem solving skills and a human-centred mind-set. At the end of the training program, participants had the opportunity to pitch their innovative entrepreneurial solutions at a Final Challenge from which winners were selected to receive various cash prices and mentoring.
"We give hearty thanks to our partner, Mastercard Foundation for conceiving the Social Innovation Fund. We are very hopeful that using the skills the students gained through the design thinking training and the prizes that were won, you will embrace entrepreneurship not just as side hustle but as a major economic activity," says Joseph.
The fund allows Scholars to pursue entrepreneurship as an important pathway for transitions from school while solving Africa's youth employment challenge.
About the winning teams:
2NFemerged winner of the innovation challenge and their idea is an Agriculture e-learning platform that offers Agriculture related courses. The courses target to educate (young) people interested in learning about agricultural techniques and methods to implement or enhance their ideas. The team was awarded with USD 20,000 to help implement their idea.
Other winning teams include Ag Pay whose project is already operating in Cameroon and Zambia to ease access for farmers to different supplies, Legacy Deliveries, an e-shopping solution for house supplies, LCE, an online platform that will engage students in after-school activities which will help them generate income in the future and Mag Fee, a more environmental friendly and cost effective solution for animal feeds. The teams received 15,000 USD, 12,000 USD, 8000 USD and 5000 USD respectively.

Furthermore, to better manage the funds, the panel decided to spread the funding over three installments in percentages of the total funding earned